arl Marine Crane Delay Logger
arl Marine Crane Delay Logger
Crane Activity (Non-Handling, Delays) Logging
Container discharge and loadings
Meal breaks or shift changes
Waiting for trucks, yard equipment or container 
Hatch covers and gear boxes handling
Weather stoppages
OOG, reefer or breakbulk cargo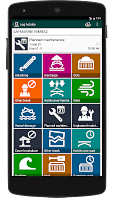 Cloud sync logged activities
Visibility of all logged crane activities
Crane activity status monitor
Post-call crane activities accumulated performance measurements
Stakeholder sharing
Sign Up
Try-out
for terminals, port operators, port authorities, shipping lines, agents or representatives
FAQ
How do I get the Android Crane Logger?
Download from Google Play.
How do I get a cloud login?
Sign-up here.
What are the costs?
From EUR 350 per month, plus EUR 25 per vessel port call. See details here.
Can logs be trusted?
Loggings are solely recorded in real-time from the Android phone; no post-editing or tampering is possible.
When can I start?
After you sign-up and settle first subscription fees, you log the next day.
Who have access to my logs?
Logs are strictly confidential. Only users created by yourself, or parties collaborated with, can view your logs.
What are the costs?
No upfront license costs.
Just a monthly subscription fee, and usage fees depending on number of vessel port calls logged.
All prices include support, hosting, mobile app software, maintenance and regular feature upgrades.
What are the starting costs?
EUR 350 per month, plus EUR 25 per vessel port call.
Do I pay for support?
Next day response e-mail support is included in the monthly subscription fees.
When is the system available after sign-up?
After you sign-up, an invoice will be emailed to you including 3 months subscription fee. Upon receipt of your payment access to the system is provided.
How about server and hosting costs?
No servers or server software is required; all cloud server costs are included in the monthly subscription fees.
Costs for improved features?
Your ideas for improvements are welcome! Improved features are provided regularly -no additional fees.
What are the technical requirements to Android smartphone or tablet?
A phone or tablet with the following specifications -or higher- is fine:
Operating system: Android 5.1
Screen resolution and size: 480 x 800, 4″
Memory: minimum 1 GB, recommended 2 GB of RAM
GPS sensor: required
Camera: recommended, with autofocus
Screen brightness should be suitable for work under strong sunlight.
What about battery?
Apps are by optimized for low battery use. You can let each new labour-shift carry a new fully charged device (Android smartphones are inexpensive), or provide external battery/ power bank to ensure continuous onsite work.
What are supported barcode standards?
EAN-13, EAN-8, UPC-A, UPC-E, Code-39, Code-93, Code-128, ITF, Codabar
QR Code, Data Matrix, PDF-417, AZTEC
Browser support
Cloud apps run in all modern desktop, tablet, and mobile browsers including MS Edge, Firefox, Chrome, browsers based on Chrome engine (Opera, Yandex, Vivaldi), and Safari.
Does the Crane Logger interact with the terminal TOS, Terminal Operating System?
Optionally arl-shipping.com provide a free "TOS agent" automatically capturing discharge, load and shift move loggings from the TOS.
Does the Crane Logger work with the arl-shipping.com Sea Side Crane Executor?
The cloud Crane Executor automatically provide discharge, load and shift move loggings to the Crane Logger.