arl Container Quay Tally: Crane Executor
arl Container Quay Tally: Crane Executor
Smartphone Container Discharge and Load Confirmations Tally
Android smartphone
online with WiFi or 3G; offline with 'sync'
Real-time discharge, load or shift confirmation
Misstow, shortship and overland handling
Planned and remaining handlings dashboard
Graphical bayplan & stowage plan
Real-time validations
Wise input dynamic keyboard
Stevedore local language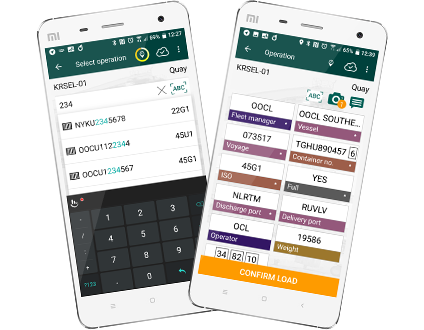 Shipping line EDI receive and send
Receive bayplan and discharge instruction BAPLIE
Receive load instruction COPRAR
Receive stowage plan MOVINS
Send move confirmation COARRI
Real-time status dashboard through vessel port call
Productivity performance measurements
Sign Up
for stevedores, port operators, tallymen, shipping lines or shipping line agents
FAQ
What, if no internet on quay side?
Once the Crane Executor operator transfer the bayplan and loading list to the handheld in his office, the stevedore tallyman confirm moves on the tablet at the quay side. The confirmed moves are sync'ed to the cloud app server when back in the office WiFi, or using 3G or port WiFi.
How about changes to the load list during operations?
If changes to the load list are received from the shipping line/ shipping line agent as new COPRAR EDI messages during the vessel port call, the changes from the original load list are updated to the tablets as soon as each tablet sync with the cloud app, or load list exceptions can be typed directly from the tablets.
Why is departure bayplan quality improved?
The data quality improves as the tablets immediately validate input and give warnings and alerts to the stevedore in case of illogical or  inconsistent confirmation or sequences. Furthermore the Crane Executor tablet support that the tallyman log discrepancies noted in the bayplan and load list during the operations.
How does shipping line get the departure bayplan?
Upon handling completion all updates from individual tablets are sync'ed  to the Sea Side Crane Executor cloud, and the departure bayplan (BAPLIE) is transferred as an electronically bayplan (BAPLIE) to the shipping line, and/or handed to the vessel master prior to departure.
What does it cost?
No upfront license costs.
Only pay a (low) monthly subscription fee depending on the amount of features required, and (low) usage fees depending on number of vessel port calls and number of moves handled. All prices include support, hosting, handheld app software, maintenance and occasional feature upgrades.
Any other costs?
If an on-site visit is requested to train your tallymen and facilitate the new real-time move confirmation process, you are charged travelling costs and consulting fees for the two-man implementation team.
Do I pay for support?
Next day response e-mail support is included in the monthly subscription fees.
When is the system available after sign-up?
After you sign-up, an invoice will be emailed to you including 3 months subscription fee. Upon receipt of your payment access to the system is provided.
How about server and hosting costs?
No servers, server software or IT staff are required; all cloud server costs are included in the monthly subscription fees.
Costs for improved features?
Your ideas for improved features are welcomed! Improved features are included in new versions automatically deployed regularly -no additional fees.
Assistance for setting up EDI interfaces with the shipping lines?
Support for setting up EDI links with shipping lines is part of the free support.
QUAL A CONFIGURAÇÃO MÍNIMA DO SMARTPHONE?
Qualquer celular ou tablet com as seguintes especificações mínimas:
 Sistema operacional: Android 5.1
Resolução da tela: 480 x 800, 4″
Memória: 1 GB de RAM
Sensor GPS: Obrigatório
Câmera: Recomendado com autofoco
Atenção ao brilho da tela, deve ser adequado para trabalhos sob luz solar forte. Você também pode considerar bateria para suportar 24 horas de trabalho contínuo.