arl Marine Draft Surveyor
arl Marine Draft Surveyor
Arrival and Departure Draft & Displacement on Smartphone with Photo, Sync to Shore Stakeholders
Google Play app download and self-install to smartphone(s)
Android smartphone app
smartphone pairing(s), unlimited
arrival drafts, fore, aft and midships
departure drafts, fore, aft and midships
cloud configuration
smartphone to cloud survey sync
marine draft survey stakeholder sharing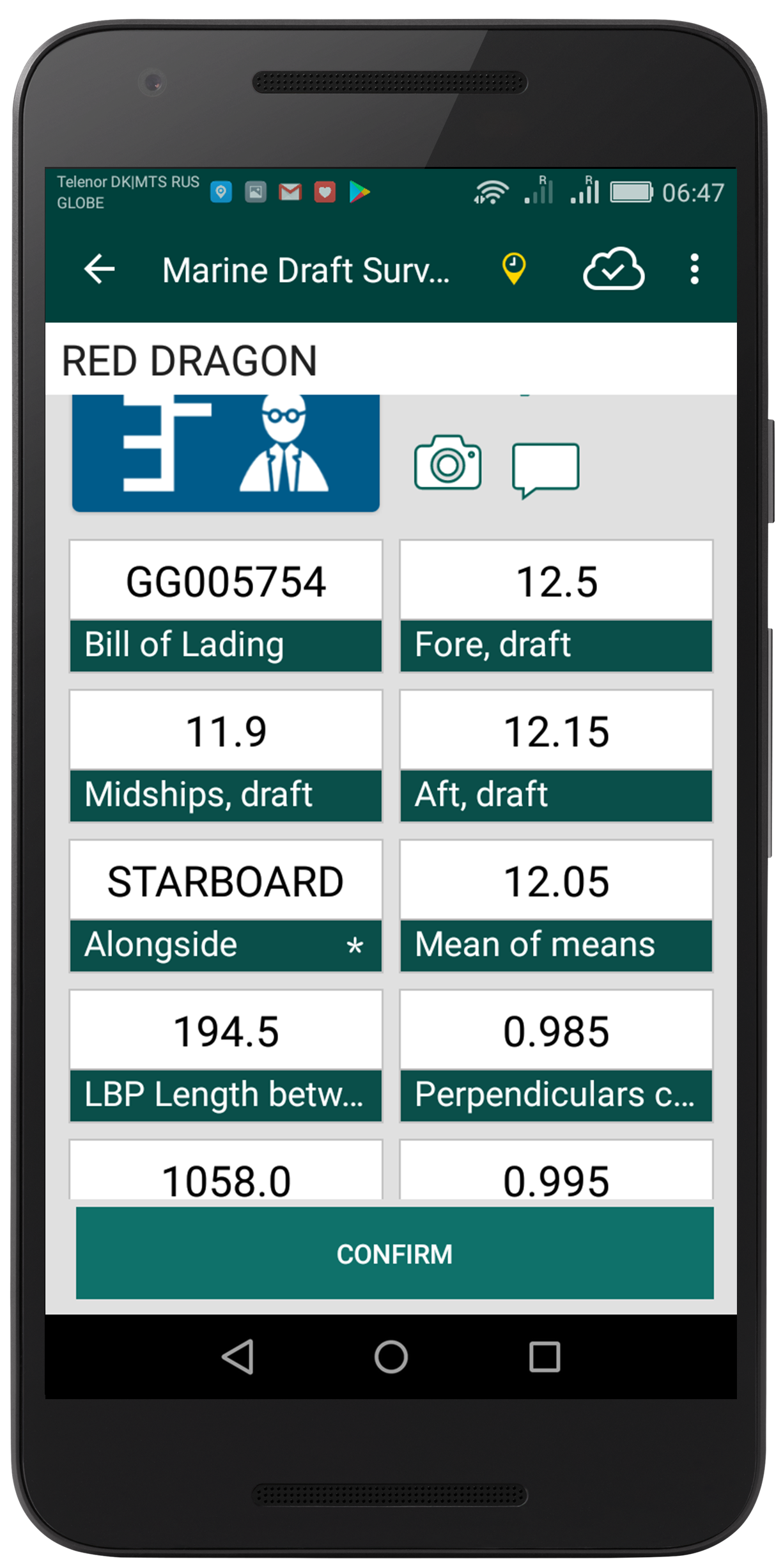 listing angle, direction and LCB recording
smartphone photo documentation
arrival and departure water density
ballast and deballast quanity recording
bunkers, water taken recording
disposals, sludge/ bilgewater recording
net-cargo recording
cloud draft survey with photos 3-month archieve
Sign Up
Try-out
for marine and cargo surveyors, port agents, vessel operators, terminals, stevedores or tallymen
FAQ
What, if no internet on the quay side or onboard the vessel?
The marine surveyor records draft and displacement on the smartphone on the quay side and onboard the vessel in realtime. The recordings are kept on the smartphone, sync'ed to the cloud app server whenever 3G or wifi is again available, f.ex. when back in the office using office-WiFi, maintaining the real-time captured timestamps and GPS location.
Why will the cargo owner (charterer) love this?
The recordings are done in real time, auto-sync'ed to the cloud, with auto-capturing of timestamp and GPS for each recording; possibly documented with photos of draft readings. The smartphone recordings cannot later be tampered with in the office -all smartphone recordings are kept as documentation for all draft surveys in the port.
How do I get the app on my smartphone(s)?
Download from Google Play and click "install".
When can I start?
Once you sign-up and settle first invoice you can start right away. Sign up today, start tomorrow. Seriously!
Who has access to my data?
All your data belongs to you and is not accessed by any other party. Reports and extracts are shared only with stakeholders you select.
How does smartphone connect to the server?
Through a simple internet connection (data packet or wifi).
Can smartphone be setup to only run this business app?
Android devices can be switched to "kiosk mode" so only specific applications can run, and users do not have access to other apps on the smartphone, such as calls, social media and browsers.
How do I get started?
Sign-up here; you will receive invoice for first 3 months use. As soon as settled you get first cloud login already branded with your corporate logo. Sign-up today, start tomorrow!
Do I need other equipment than the Marine Draft Survey app on my smartphone?
If only taking drafts from quayside you need an inclinometer to determine the list across the beam. You might need equipment to determine the water density. And, you need the vessel's hydrostatic particulars for trim LCB, and trim & stability book to convert the drafts and trim to displacement.
Does each of my surveyors need to sign-up individually?
No, just do a corporate sign-up for your port, and all surveyors can download and pair their smartphone to same site. Draft surveys from all surveyoers can be accessed by your office logins.
Do I pay for support?
Email support (in English) is included in the monthly fees. Regular upgrade of features is also included.
Any additional software or hosting costs?
No server or software is required. The smartphone app is already bundled with a running hosting service. No additional costs.
Can I request improvements or customizations?
Your ideas for improvements are welcome! We will assess, if the ideas are relevant for other users, and can be implemented in future versions.
For how long do I have to commit?
You settle costs 3 months ahead at all times, and you can cancel anytime. When prepaid payments expire access to the app is removed.
How many photos can i make?
No limitations; you can supplement with as many photos as you like. During draft recording, you can make a snapshot of the waterline at the area you take the draft. For trim LCB adjustment, you can make a snapshop of the vessel's hydrostatic particulars. For displacement entry, you can make a snapshot of the relevant page in vessel's trim & stability book. For listing, you can snapshot the inclinometer reading. For bunkers, supplies and disposals, you can snapshot individual sounding documentation.
All photos are sync'ed to the cloud, together with the entered values and entry points, hence you maintain a full set of relevant documentation in a single place.
Can office later adjust the surveyor readings?
No, the surveyor's readings, inputs and photos cannot be tampered with by office. All readings are recorded together with smartphone GPS captured location and timestamp, verifying that the captured readings have been recorded onsite in real-time.
What are the technical requirements to Android smartphone or tablet?
A phone or tablet with the following specifications -or higher- is fine:
Operating system: Android 5.1
Screen resolution and size: 480 x 800, 4″
Memory: 1 GB of RAM
GPS sensor: required
Camera: recommended, with autofocus
Screen brightness should be suitable for work under strong sunlight.
What about battery?
Apps are by optimized for low battery use. You can let each new labour-shift carry a new fully charged device (Android smartphones are inexpensive), or provide external battery/ power bank to ensure continuous onsite work.
What are supported barcode standards?
EAN-13, EAN-8, UPC-A, UPC-E, Code-39, Code-93, Code-128, ITF, Codabar
QR Code, Data Matrix, PDF-417, AZTEC
Browser support
Cloud apps run in all modern desktop, tablet, and mobile browsers including MS Edge, Firefox, Chrome, browsers based on Chrome engine (Opera, Yandex, Vivaldi), and Safari.